When it comes to the security of your valuables, safes are the best option for your home or office. In this article we will consider the top benefits of wall safes and why you should consider wall safes over other safes.
Wall safes are bad news for thieves
Thieves are always in a hurry, so they generally don't waste time in searching for safes that are not visible to them. They generally grab things that are visible. Even in the unlikely event that someone locates a wall safe, it is almost impossible for them to open or unbolt it from the wall as it needs a wide set of tools and expertise in order to open the wall safe.
Wall safes are easy to hide
With most modern home designs it's very easy to pre-plan a hiding space for your wall safe that is hard to detect. Typically the most common areas to hide your wall safes is behind a big painting in your home or office, or you can use your own creative idea. Here is a list of our top wall safes that you can consider for your home or office.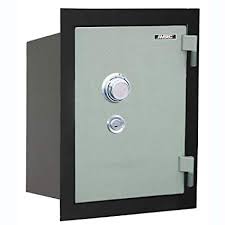 Few steps to plan your Wall Safe hideout
Chose an area that's easily accessible but least suspicious for people or thieves to guess that there could be a safe
While wall safes are hardly noticeable, it's always better to make it even harder for people to find it, by just hanging a mirror, a family portrait or anything usual.
If you do not need to access your wall safe very frequently, it is recommended that you hide it behind some very heavy furniture such as a bookshelf or in discrete area such as in your kitchen, i.e. behind your refrigerator
Wall safes are easy to organise
As wall safes are bolted vertically it easy to organise things in a wall safe vis-a-vis a floor safe
Wall safes are perfect for small accessories
If you don't have large items in your safe, then wall safes are the best for documents, data storage devices or jewellery and many other small items that you might want to protect
Wall safes are easy to install and saves space
Unlike other safes that need extra space at your place, a wall safe does not require extra space. It can be installed within virtually any wall and they are lightweight.
Why you should only hire professionals for installing your wall safe
Every safe comes with a manual, and anyone can read the manual and install the wall safe, sounds easy, RIGHT?? Unfortunately installing wall safes can be a little tricky and we recommend consulting our experts. There could be water pipes, electrical wiring and many other things that need to be considered before a wall safe installation.
Contact our experts at Safes Australia for the best wall safe options for your home or office. You can send us an email at info@safesaustralia.com.au or Call Us on our Toll Free number 1800 637 429 from Mon-Sat.